Restorative justice is a set of criminal justice processes through which criminal sentencing and rehabilitation are decided by the community, victim, and offender working in a collaborative process. Presently, the penal system is better likened to an "industiral complex" that does little more than revolve offenders through the system. The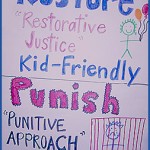 US incarcerates greater numbers of citizens than any nation in the world both in total and per capita numbers.[1]  With no meaningful rehabilitation to protect communities after offenders are released, people are scared. Certain elements have capitalized on this to politicize and profit criminal justice. The emotional vulnerability of victimized individuals and communities has led to a penal code that replaces short term retaliation for the harder work of rehabilitation that would ensure long term public safety. Lip service is paid to rebuilding shattered lives of victims while no efforts are made to address the destruction to the offender's family and communities. After years of  "zero tolerance" and increasingly long sentences, system costs have steadily increased alongside ever higher recidivism rates. While this system serves the politicians who use it to get re-elected and the private prison industry to reap huge profits, families and communities continue to suffer. 
Restorative justice is an approach that supports victims through a more interactive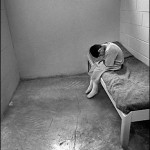 process (not necessarily involving confrontation of the accused). It can include post-sentencing victim-offender mediation, sentencing in a community conference with all parties present, a restitution process that is more participatory for offenders so they understand the true meaning of making amends and actually ensures victims receive compensation.  By emphasizing the relationships among offenders, victims, and communities, restorative justic transforms a penal system into a true justice system.
Bringing victims, communities, offenders and officials together to work together empowers victims and their friends/families in their search for closure; provides offenders with the factual, human impact of their behavior and requires them to actively correct this harm to deter further incidents and promotes meaningful restitution for criminal acts to victims and communities. Communication through dialogue and negotiation are central to restorative justice. Solutions for the future are elevated over simply assigning blame for past behavior and retaliating. Balance is sought among the legitimate needs of the victim, the community, and the offender.
While a true restorative justice approach will require cooperative efforts between law enforcement, courts, the community and defense bars, the principals can be advocated on a case by case basis. Particularly in the juvenile courts — in which judges and prosecutors frequently have more alternatives available — a restorative justice approach can be utilized to supplement the existing mechanisms.
1. U.S. Dept. of Justice, Bureau of Justice Statistics, Historical Corrections Statistics in the United States, 1850-1984.  See also, "One in 100: Behind Bars in America 2008," Public Safety Performance Project, The Pew Center on the States, Pew Charitable Trusts, pg 5 @ pewcenteronthestates(pdf).
NOTE: I limit my practice in the criminal context to juvenile cases in which children are involved in the juvenile courts or being charged, tried or sentenced as adults.